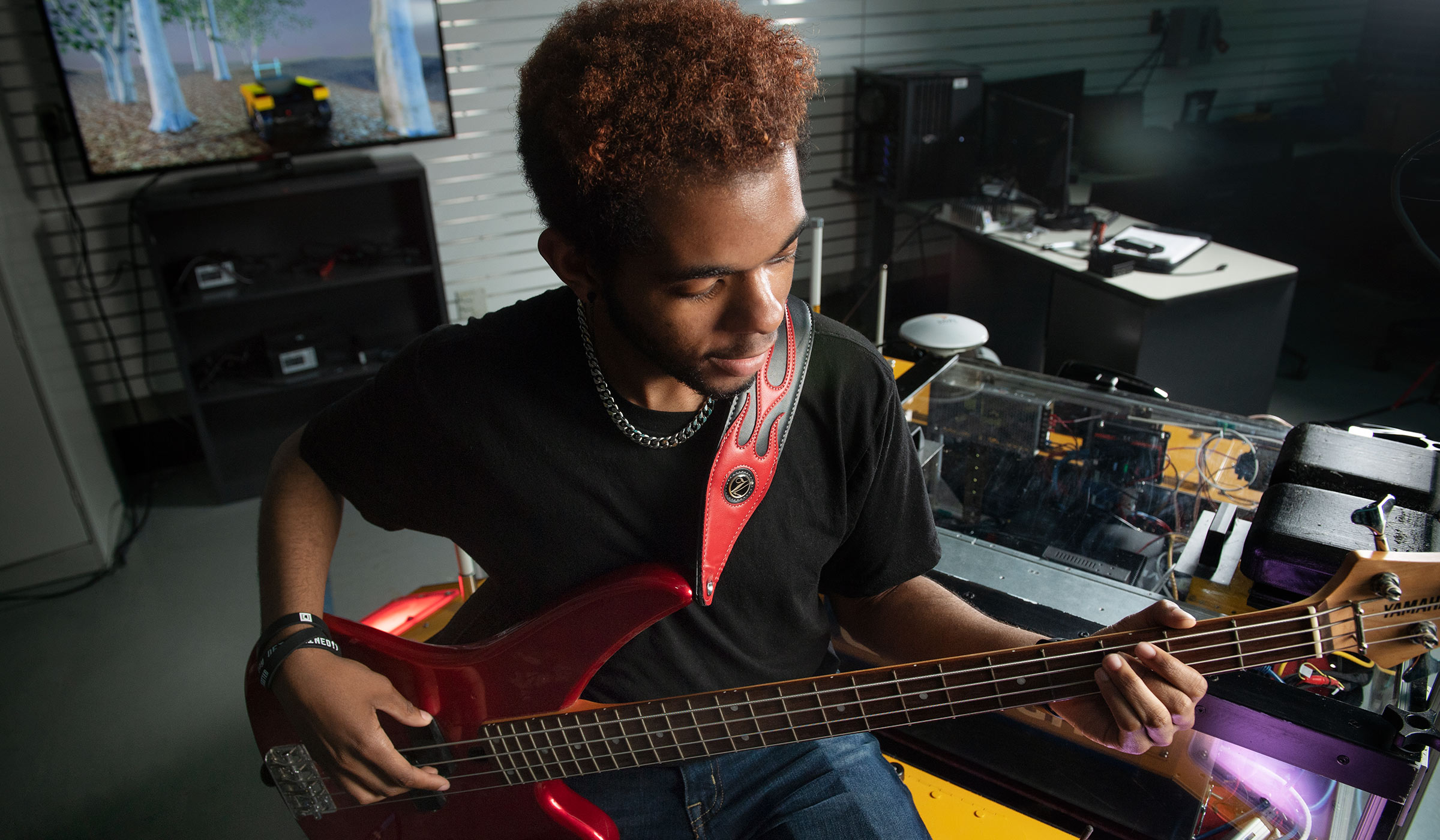 During his junior year at Mississippi State, large crowds at Bulldog Bash and the Cotton District Arts Festival danced to the rhythm of a hip-hop beat as Warren Wheeler and his band Soul Stainless performed. The venue for his music was in Wheeler's words, "...one of the many opportunities available to me when I decided to attend Mississippi State to earn my undergraduate degree."
With a passion for music, Wheeler did not choose the field as his major, but instead earned his 2020 undergraduate degree in computer engineering. However, he said that it was music that led him down the path of computer coding.
"Learning to code is a lot like learning to play an instrument. At first it seems chaotic and overwhelming because there is a lot to pick apart and understand, but then as you research it you start to put the pieces together one bit at a time and it makes sense. Whether it is coding or playing music, both are expressions to solutions, and you are the creator who is conveying the how and why."
Writing code or music isn't always easy. The classes are difficult, and they may even make one doubt their abilities, but one thing Wheeler advises is to realize that this is part of learning and it is going to take practice and repetition. It's like some of his lyrics state,
Make your mind up,
if you wanna be at the top
you better climb up,
and then you gotta do it 'fore your time up
Wheeler said he has lived these words. His got his first break when he was showing a mobile video game app he produced to a group of friends in Jackson. A few professionals from Trensek, a publisher of mobile games and web applications and a subsidiary of Integrated Management Services engineering firm, overheard his conversation.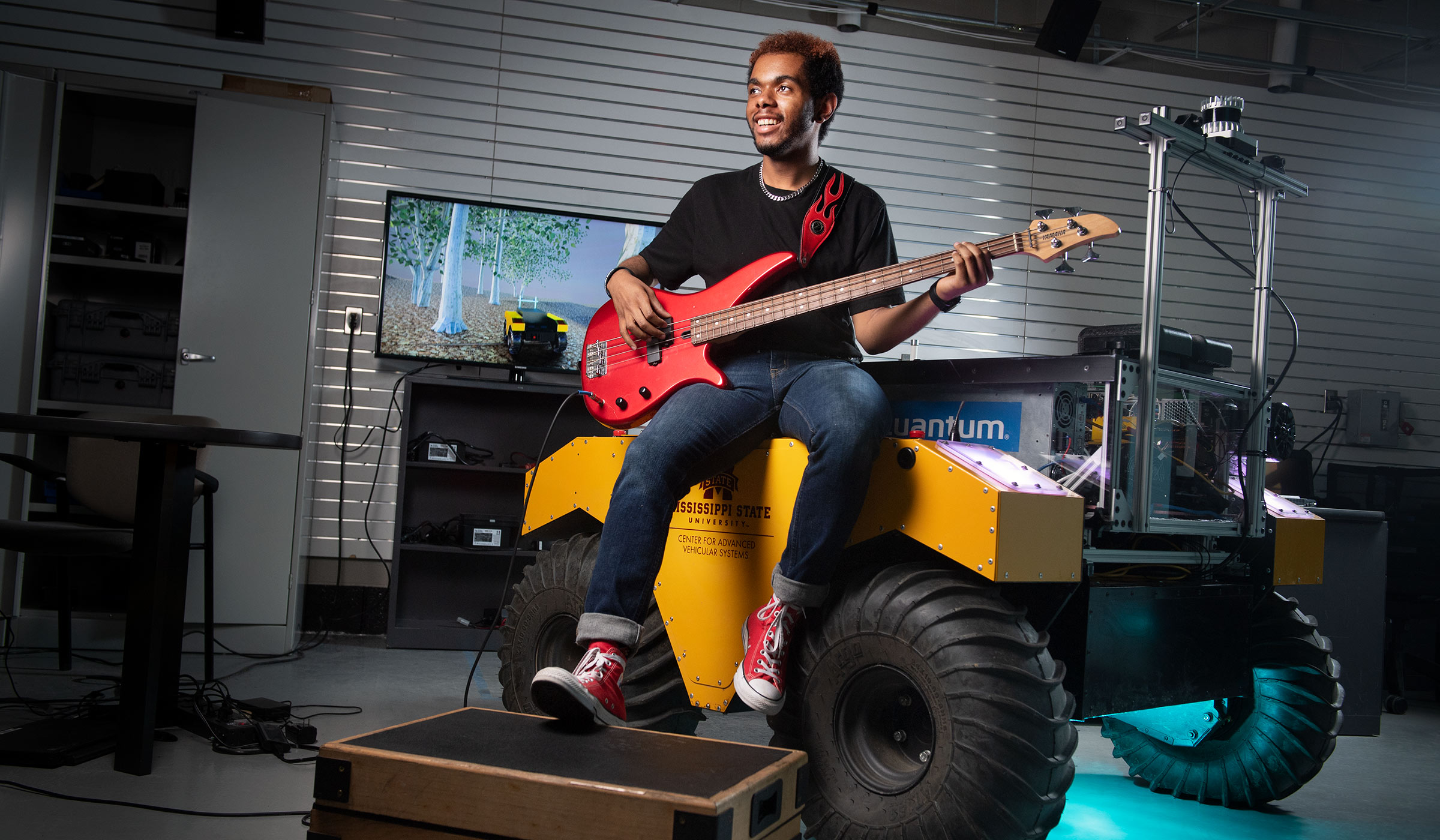 "They approached us to see what we had produced and, come to find out, they were also producing game apps for the same target audience," said Wheeler. "From that conversation, I landed my first full-time job creating mobile game phone apps. It was the summer before my freshman year of college, and that experience really got me looking forward to studying computer engineering at Mississippi State."
Once at MSU and while studying in Mitchell Memorial Library, he caught a glimpse of a SWAT robot that raised his curiosity. He approached scientists from the university's Center for Advanced Vehicular Systems who were conducting research to design the robot to communicate with SWAT team officers. MSU researchers test robots in different crime-fighting scenarios to gather data to improve capabilities.
"Dr. Daniel Carruth was testing the autonomous robot's sensors to study the interaction between it and people—how the robot tells officers what it is going to do," Wheeler explained. "I told them I was a computer engineering major and Dr. Carruth turned to Christopher Hudson, who had started working with CAVS as a doctoral student specializing in autonomous simulation, and said, 'We need a computer engineer to write code, don't we?'"
Wheeler soon began working for CAVS as an undergraduate researcher.
Two years later, when he graduated, his hard work earned him a position as a CAVS graduate research assistant, which pays for tuition during his graduate degree studies and provides a monthly stipend.
"I'm still working with Dr. Carruth and Chris Hudson, while I'm studying for my master's in computer science. As a GRA, I'm writing code for what I think is a revolutionary software program to address the unique learning needs of off-road, self-driving vehicles," Wheeler said.
Going into his second year as a GRA, Wheeler is researching vast amounts of data to write machine learning code and artificial intelligence algorithms for off-and-on-road autonomous vehicles that will better protect America's military servicemen and women.
"I try to cherish every moment of working on what I'm passionate about and then display that to the world, because in the end, you never know whom you may inspire."