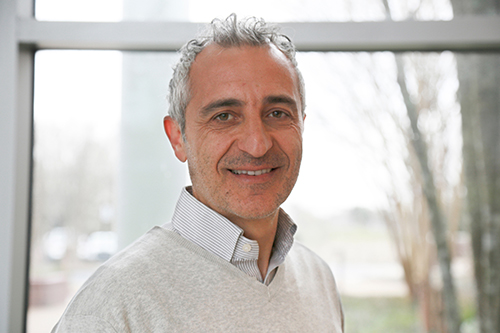 A distinguished Italian researcher visiting from the Institute of BioEconomy at his country's National Research Council is working at Mississippi State University's Geosystems Research Institute to advance precision agriculture and aid farmers.
Alessandro Matese is taking part in a year-long fellowship at MSU through the university's partnership with the U.S. Department of Agriculture to further develop agriculture research through high-performance computing. While at MSU, the senior researcher is expanding his work with remote sensing in precision agriculture using unmanned aerial systems, especially in processing of hyperspectral imagery using high-performance computing infrastructure.
"The challenge is taking massive amounts of georeferenced ag data collected from the fields and managing and analyzing it so farmers can use it in a practical way. The advantage is MSU's high-performance computer system speeds up the process so we can quickly analyze the complex data, and then model it to create an agriculture system farmers can use to increase crop yields and reduce agriculture runoff, which saves money, protects the environment and produces high-quality products for the world's food supply," Matese explained.
The visiting scholar leads the Tech Agriculture Group at the Institute for BioEconomy in Florence, Italy. He has authored 90 publications with over 3,000 citations. Among his research projects, Matese serves as principal investigator for a European Union-funded project from the Partnership on Research and Innovation in the Mediterranean Area, or PRIMA. The project, "Digital Agriculture Technologies for Irrigation Efficiency," explores how to develop, implement and enhance irrigation efficiency using digital, data-driven models with low-cost hardware to create practical solutions for small-scale farmers.
"Experts say the demands on agriculture are expected to grow by 3% each year over the next decade. The ag obligations are driven by population growth, demand for protein and pressures on harvests from climate change," Matese said. "I'm conducting research to help farmers meet these growing demands."
Matese's project is made possible through a cooperative agreement with the U.S. Department of Agriculture known as USDA/MSU-Advancing Agriculture Research through High Performance Computing. The partnership is driven by "Atlas," a high-powered system installed at MSU's High Performance Computing Collaboratory in 2020.
"The USDA's agriculture research experts say, '...very few small farms in the U.S., which make up greater than 85% of U.S. farm totals, have adopted precision agriculture,"' Geosystems Research Institute Director Robert Moorhead said. "Matese's work will help us research and potentially create, identify and adopt appropriate technologies to automate production while improving the economic and environmental impacts. This will help ensure a sufficient supply of healthy and safe food for a growing global population."
Last fall, Matese was honored internationally with the 2021 Bologna Award for sustainable development in agri-food production for his work that demonstrates the world's advanced scientific and technological research in this area.
Matese earned his 2003 master's degree in natural sciences in Italy's Florence University, Department of Earth Sciences and his 2014 doctorate in agriculture, forest and food science at the country's Torino University.
MSU is Mississippi's leading university, available online at
www.msstate.edu
.
About the USDA/MSU-Advancing Agriculture Research through High Performance Computing
The Advancing Agricultural Research through High-Performance Computing project is a collaborative agreement between Mississippi State University and the USDA-Agriculture Research Service. The goal of the AAR-HPC project is to address some of today's most pressing agriculture and food security issues through the creation of a collaborative, multi-disciplinary science "hub" designed to answer challenging questions in areas such as disease ecology, epidemiology and landscape agroecology. For more, visit
www.gri.msstate.edu/research/aar/
.
About MSU's Geosystems Research Institute
GRI is a collaborative of academic scientists, engineers, and stakeholders active in conducting and coordinating research using geospatial technologies and resource management to advance knowledge and practice in earth and its systems to improve policy and public awareness. For more, visit
www.gri.msstate.edu
.