MSU's Center for Cyber Innovation, MGCCC, Federal Partners Collaborate to Host Premier Cybersecurity Conference
August 12, 2022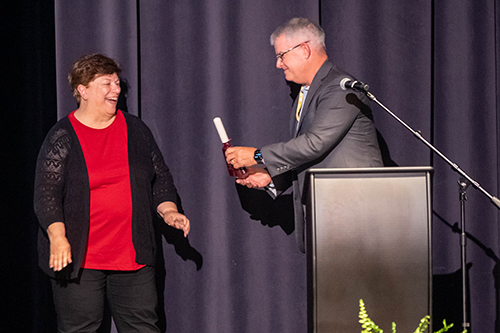 Jim Martin, Mississippi State University associate vice president for corporate engagement and economic development, presents a cowbell to Lynne Clark, acting chief of the Center for Cybersecurity Education Innovation and Outreach in the National Security Agency's National Cryptologic University, during the National Centers of Academic Excellence in Cybersecurity Executive Leadership Forum, which was hosted by MSU and Mississippi Gulf Coast Community College. Photo by Lawrence Graham, MGCCC
Representatives from hundreds of leading academic institutions recently gathered on the Mississippi Gulf Coast for one of the country's premier academic conferences in cybersecurity.
Mississippi State University and Mississippi Gulf Coast Community College, along with multiple federal partners, hosted the National Centers of Academic Excellence in Cybersecurity (NCAE-C) Executive Leadership Forum. The event brings together executives and faculty members from the more than 350 universities and colleges that have received one or more Center of Academic Excellence in Cybersecurity designations from the National Security Agency (NSA). Held at MGCCC's Immersive Media and Performing Arts Center and Hospitality Resort Management Center at the Harrison County Campus, the two-day conference included high-level perspectives from defense, government, academia, and private industry on the cybersecurity challenges facing the country.
"It has been an honor to work with MGCCC and our federal partners to host this important event," said Jim Martin, conference lead and MSU associate vice president for corporate engagement and economic development. "Our nation is facing incredibly complex cyber challenges, and events like this help our institutions stay at the forefront of national trends in defense, education and industry. We are proud of our longstanding status as a Center of Academic Excellence in Cybersecurity and enjoyed the opportunity to bring our peers from across the country to the Gulf Coast."
MSU holds all three Center of Academic Excellence in Cybersecurity designations (cyber defense, cyber research and cyber operations) from the NSA. During the conference, MSU was recognized for the renewal of its Center of Academic Excellence in Cyber Defense designation.
"It has been an incredible opportunity for us to host the leadership forum on the Harrison County Campus," said Cedric Bradley, vice president of MGCC's Harrison County Campus. "The knowledge and experience we were able to gather and share through collaboration with administrators and faculty from our nation's leading colleges and universities in cybersecurity along with experts from defense, government, and private industry has provided us the ability to stay in front of the many cyber challenges facing our college and so many other academic institutions. As a key player in the Mississippi Cyber Initiative, MGCCC is prepared to train our students and local military personnel to respond to those threats successfully."
The Executive Leadership Forum is sponsored annually by the NCAE-C program, which is managed by the NSA's National Cryptologic University. Federal partners include the Cybersecurity and Infrastructure Security Agency, Federal Bureau of Investigation, National Institute of Standards and Technology, National Initiative on Cybersecurity Education, National Science Foundation, Department of Defense Office of the Chief Information Officer, and the U.S. Cyber Command. For more on the Centers of Academic Excellence program, visit nsa.gov/academics/Centers-of-Academic-Excellence.
As part of the week's events, the NSA partnered with the Maryland Innovation Security Institute and DreamPort to host "Hack the Port 22: E.L.F. Edition," a cyber competition that included 10 teams from across the country competing in a cyber exercise. Additionally, the Department of Defense hosted an orientation for students entering the organization's Cyber Scholarship Program, part of the DoD's efforts to train and grow its cybersecurity workforce.
For more on Mississippi Gulf Coast Community College, visit
www.mgccc.edu
.
By
James Carskadon