MSU NGI Meteorologist: Dry Air, Other Variables Taking Teeth out of Atlantic Hurricane Season
September 12, 2022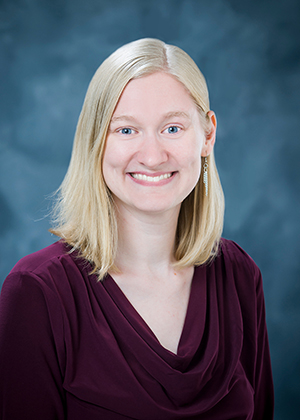 Kimberly Wood
Photo by Russ Houston
Despite its unusually slow start, a Mississippi State Northern Gulf Institute meteorologist says not to rule out an increase in activity during the last months of the Atlantic Ocean's hurricane season, a time each year concerned Mississippians monitor.
In May, National Oceanic and Atmospheric Administration forecasters predicted an above-average level of activity—specifically 14 to 21 named storms with winds of 39 MPH or higher, of which six to 10 could become hurricanes with wind speeds in excess of 74 MPH—for the storm season traditionally spanning June 1 to Nov. 30.
As of the end of August, however, only three named storms have emerged—Alex, Bonnie and Colin—and never intensified into hurricanes. While there is still a good chance the Atlantic Ocean will produce end-of-season Danielle, Earl and Fiona—the next three names on the World Meteorological Organization's 2022 hurricane list for the Atlantic Ocean—it likely will avoid appearances by others toward the end of the list.
"It's not that uncommon to have a quiet July. But to have that extend into August where, in general, conditions tend to be more conducive? That's weird," said Kimberly Wood, an MSU Department of Geosciences associate professor of meteorology. "It would be even more uncommon to have this quiet spell continue into September since this tends to be the peak of the season."
Many of the conditions favorable to hurricane formation, including warm waters and atmospheric disturbances that can become storms, are currently present in the Atlantic Ocean, Wood said, but other factors—the movement of dry, dusty air from Africa's Sahara Desert into regions where storms generally form, for example—are complicating the process.
"The energy is there, but those storms aren't able to take advantage of it right now," she said. "A lot of focus in recent years has been on the warm waters. High sea-surface temperatures were in place when we got Hurricanes Ida, Harvey and Dorian, but those warm waters, as we've seen, do not guarantee a hurricane-level event."
Activity could emerge soon, Wood said, as the climatological peak of the season—Sept. 10—approaches.
"The big things to watch: Does the dry air stick around, and does the vertical wind shear weaken? With an active monsoon over West Africa, we expect that to continue creating waves," she said. "Once those waves emerge over water, are they moving through an environment that's dry?"
"With many changing variables, it does make it more difficult to say that, given these conditions, X, Y and Z will happen. We know what happened in the past, but what's happening now is different," Wood added. "We don't exactly know the implications of all of these variables until we get more observations to investigate what happened. It's going to be a very well-studied season."
Visit
www.geosciences.msstate.edu
for more information about the MSU Department of Geosciences. Visit
www.ngi.msstate.edu
for more information on the Northern Gulf Institute.
By Carl Smith