MSU Hosts National Science Foundation Director, Sen. Wicker for NSF Day, Next Monday
November 16, 2022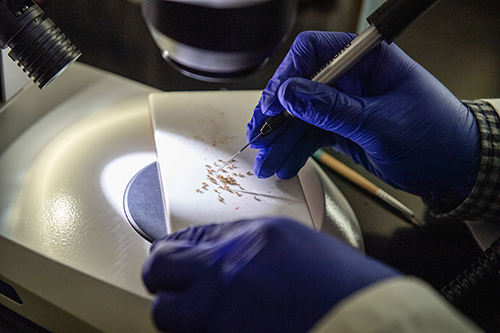 Scientists from across Mississippi's eight Institutions of Higher Learning had the opportunity to interact with National Science Foundation leaders when Mississippi State University hosted NSF Day. Photo by Megan Bean
Mississippi researchers interacted with multiple National Science Foundation leaders during NSF Day next Monday [Nov. 21] at Mississippi State University.
NSF Director Sethuraman Panchanathan, U.S. Sen. Roger Wicker and MSU President Mark E. Keenum highlight the day's agenda. Researchers from across Mississippi's Institutions of Higher Learning will be able to discuss current NSF and national research priorities, as well as potential funding opportunities. The event will begin at 9:00 a.m. at The Mill at MSU with remarks from Panchanathan, Wicker and Keenum, followed by panels and sessions throughout the day focused on various topics. Researchers were able to have one-on-one or small group discussions with program officers from multiple NSF directorates.
"We are incredibly honored to host this event on behalf of the NSF and our colleagues in higher education across the state," Keenum said. "Mississippi is home to a wealth of talented scientists and engineers. They are driving innovation and working at the forefront of their fields, and I am glad that recent federal legislation will help make our university and our state more competitive as we pursue funding for the research that is so vital to building our economy and maintaining our country's technological edge. NSF Day marks a great opportunity to bring our state's researchers together to explore these new possibilities."
Panchanathan was confirmed by the U.S. Senate to lead the NSF in 2020 and now directs the $8.8 billion federal agency charged with advancing scientific discovery, technological innovation and STEM education. A distinguished computer scientist and engineer, Panchanathan previously served as the executive vice president of the Arizona State University Knowledge Enterprise, where he also was chief innovation and research officer. One of Panchanathan's key priorities under his leadership is unleashing the full potential of the American workforce. The key to unlocking the full potential of his approach is ensuring that innovation can occur anywhere across our country and that opportunities exist everywhere for individuals to succeed to the STEM enterprise.
"I am thrilled to launch our NSF Days series at MSU. We need every region in the nation to be part of the science and engineering enterprise. Every state and community, from rural towns to urban centers, have unique talent and perspective that are crucial to the advancement of science, technology, engineering, and innovation," Panchanathan said. "This NSF Day in Mississippi highlights the multitude of opportunities and activities made possible through collaboration with NSF. We look forward to expanding our partnerships with the great state of Mississippi now and into the future."
The CHIPS and Science Act of 2022, passed by congress and signed into law this summer, significantly expands U.S. science and technology investments. Wicker, who serves on the senate's Committee on Commerce, Science and Transportation, helped negotiate a provision that increases the amount of NSF funding that goes to the 25 states and three territories that are part of NSF's Established Program to Stimulate Competitive Research, or EPSCoR. The EPSCoR program aims to increase scientific capabilities in rural states, broadening and diversifying the country's R&D activity. Wicker encouraged Mississippi researchers to take advantage of NSF Day and the opportunities provided by the CHIPS and Science Act.
"All of Mississippi's research universities will have an opportunity to hear directly from top-level leaders at the National Science Foundation and learn how they can access the many federal funding opportunities for research," Wicker said. "Events like this and new provisions in the recently-passed CHIPS and Science Act will help to correct the historic imbalances in federal research funding between urban and rural states."
For more on the National Science Foundation, visit
www.nsf.gov
.
By James Carskadon