MSU Breaks Ground on New High Performance Computing Data Center
May 23, 2023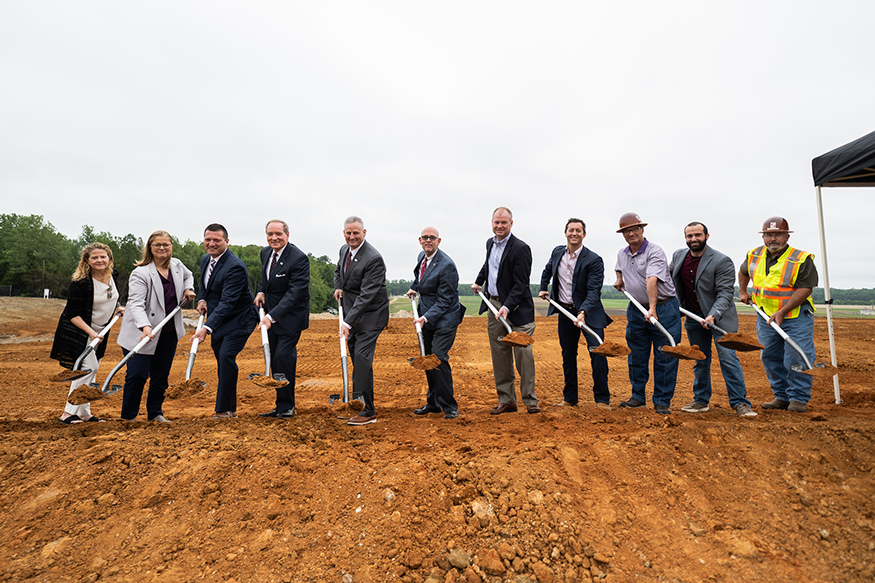 Mississippi State University officials broke ground on a new 35,000-square-foot High Performance Computing Data Center. Marking the occasion, from left, is Dale Partners Architects Managing Partner Leigh Jaunsen; MSU Vice President for Research and Economic Development Julie Jordan; MSU High Performance Computing Collaboratory Director Mike Navicky; MSU President Mark E. Keenum; MSU Interim Chief Technology Transformation Officer Trey Breckenridge; MSU Vice President for Finance and Administration Don Zant; MSU Associate Vice President for Administration Les Potts; Dale Partners Architects Partner Jason Agostinelli; West Brothers Construction Project Manager Mike Lum; Dale Partners Architects Project Architect Will Commarato; and West Brothers Construction Onsite Superintendent Jim Shackelford. Photo by Grace Cockrell
Mississippi State University is breaking ground on a new building that soon will be home to groundbreaking discoveries.
University officials celebrated the beginning of construction Tuesday [May 23] for the new High Performance Computing Data Center in the Thad Cochran Research, Technology and Economic Development Park. The 35,000-square-foot, $45 million building will further expand MSU's nationally recognized capabilities in high performance computing.
"Today marks an important step for the future of our university and our state as we build the kind of facility that can keep us at the forefront of high performance computing for years to come," said MSU President Mark E. Keenum. "I want to thank our state's leaders and the Mississippi Legislature for their support of this project, as well as federal agencies like the National Science Foundation, the National Oceanic and Atmospheric Administration and the U.S. Department of Agriculture that have made instrumental investments in computing resources at MSU. As we mark this milestone, I look forward to seeing this building filled with even more powerful computers that are helping researchers drive innovation."
As an institution, MSU ranks fifth in U.S. academic supercomputing capability, according to rankings released this week by TOP500. MSU is home to two NOAA-funded systems, Orion and Hercules, that are among the top 20 supercomputers housed at an academic setting. They are both among the top 500 fastest supercomputers in the world, with Orion coming in at No. 172 on the updated list and Hercules at No. 411. As a state, Mississippi ranks fourth nationally for the number of supercomputer systems.
Managed by MSU's High Performance Computing Collaboratory, scientists at MSU use supercomputers to quickly conduct large-scale analysis that would not be feasible on smaller systems. The computing power supports research in artificial intelligence, autonomous vehicles, biotechnology, cybersecurity, data science, weather modeling and other areas.
MSU's history in high performance computing dates back to 1990, when the university was selected to establish an NSF Engineering Research Center focused on modeling and simulation. The center was leveraged to create self-sustaining, computing-based research programs that advance scientific knowledge and support key Mississippi economic sectors such as agriculture, automotive, manufacturing and defense.
"Investments in high performance computing at MSU have consistently created significant scientific and economic impacts," said Vice President for Research and Economic Development Julie Jordan. "I know those impacts will only grow as we expand our capacity to help solve some of society's most pressing challenges."
The data center was designed by Dale Partners Architects and West Brothers Construction will serve as the general contractor. The building is expected to be finished in 2025.
By
James Carskadon