MSU's newest William L. Giles Distinguished Professors are CCI's James Fowler and IGBB's Daniel Peterson
May 4, 2020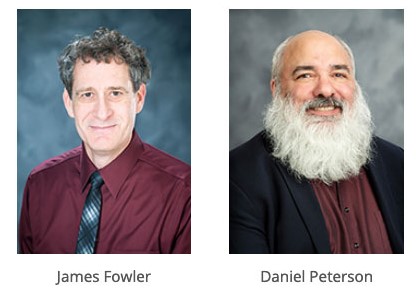 As another academic year concludes at Mississippi State, the university is honoring a select group of faculty and staff members for their commitment and service to the Bulldog family.
Provost and Executive Vice President David Shaw's office co-sponsors the annual awards program with the university's Alumni Association, led by Executive Director Jeff Davis. Shaw, Davis, and Peter Ryan, executive vice provost and dean of the Graduate School, are among university leaders who typically extend personal congratulations to each award recipient during a campus ceremony. The COVID-19 pandemic necessitated cancellation of this year's in-person celebration, but the university is honoring award recipients' efforts with this public announcement.
"This academic year will go down as one of the most challenging times in our 142-year history, but throughout the unprecedented disruption caused by COVID-19, our faculty and staff have been truly extraordinary," Shaw said. "They have remained committed to their students and to our larger Mississippi State University family. I thank all of them for their many contributions, and I especially want to congratulate this year's winners of our annual faculty and staff awards."
Sarah B. Lee, associate clinical professor in MSU's Bagley College of Engineering, joined a select group of role models and mentors for campus colleagues with her acceptance of the John Grisham Master Teacher Award. In addition to teaching, Lee serves as the Department of Computer Science and Engineering's assistant department head and director of undergraduate studies.
First presented in 1993, the Grisham Master Teacher honor is a tribute to classroom and instructional excellence that is named for the MSU accounting alumnus and internationally recognized best-selling author who provided funds to endow the award.
MSU's newest William L. Giles Distinguished Professors are James Fowler of the Bagley College of Engineering and Center for Cyber Innovation researcher; and Daniel Peterson of the College of Agriculture and Life Sciences and Institute for Genomics and Biocomputing and Biotechnology.
Fowler holds the Billie J. Ball Professorship in the Department of Electrical and Computer Engineering, of which he also serves as interim department head. Peterson teaches in the Department of Plant and Soil Sciences and serves as director of MSU's Institute for Genomics, Biocomputing and Biotechnology.
Based on distinguished scholarship demonstrated by a record of outstanding performance in research, teaching and service, the Giles honor is conferred on faculty members who have attained national or international status as verified by external reviewers in the candidates' specific fields.
Written by
Sasha Steinberg