MSU CAVS, and EMCC Tout Use of Sports Wearable Technology Against Covid-19
July 24, 2020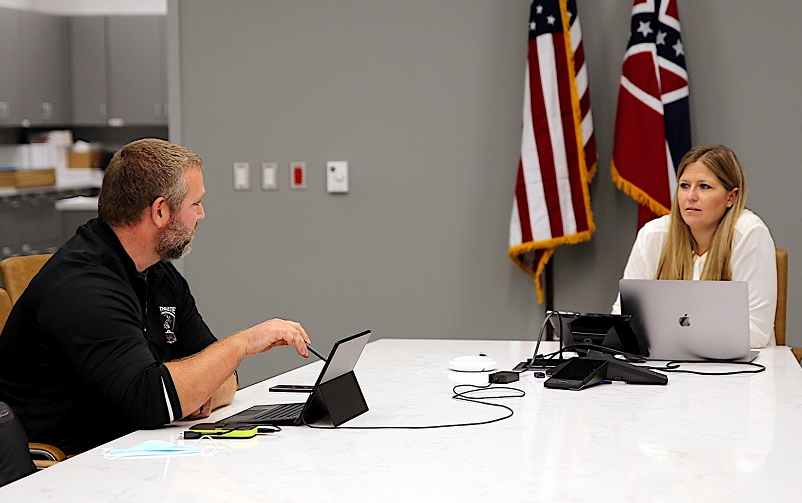 Photo submitted.
Cutting edge technology used by collegiate and professional sports teams to enhance athletes' performance has been adapted for industrial use to help reduce the spread of the novel coronavirus amongst employees, according to information provided to regional industry leaders during a Zoom virtual conference hosted by Athlete Engineering at Mississippi State University and The Communiversity at East Mississippi Community College.
The emerging field of "smart personal protective equipment" is getting a boost from companies that produce sports wearable technology, in which a wide range of wearable clothing and equipment are embedded with sensors that measure athletes' performance in areas such as speed, force, heart rate, gain and fatigue, to name a few.
Dr. Reuben Burch, associate director of Human Factors & Athlete Engineering at MSU's Center for Advanced Vehicular Systems (CAVS), said some of the sports wearable technology companies he works with also provide services to the NBA and NFL.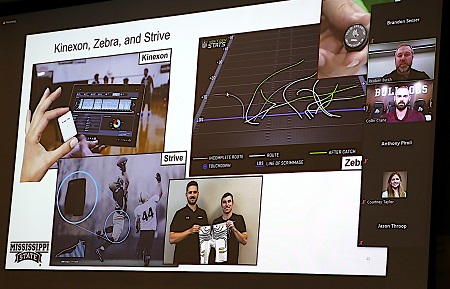 Photo submitted.
"They have repurposed some of their products to assist with the fight against COVID-19 to help companies with social distancing through proximity detection, as well as contact tracing," Burch said.
Major players in the sports wearable technology field such as KINEXON and Zebra have developed sensors that can be worn that will alert the wearer if he or she comes closer than the social-distancing recommendation of six feet to another person wearing the same device. The device will also log and store data about who that person has come in contact with and how long they interacted.
"Those of you who have had an employee infected with COVID-19 at your facility probably had to spend weeks tracking down everyone that person came in contact with, along with all the people they came in contact with," said Burch, who is also an assistant professor in the Industrial & Systems Engineering department at MSU. "This technology does that work for you and will allow you to pull up a report that tells you within minutes who is at risk."
More than 20 industry leaders participated in the Zoom conference that took place July 8. Among them were representatives from Caterpillar, Inc., FedEx, PACCAR, Steel Dynamics and the Kemper County Economic Development Authority, to name a few.
Speakers during the conference call included Tampa Bay Buccaneers strength and conditioning coach Anthony Piroli and MSU men's basketball strength and conditioning coach Collin Crane. Both men have had extensive experience utilizing sports wearable technology and have worked with Athlete Engineering at MSU to enhance players' performance training and to provide aid in making health and safety decisions.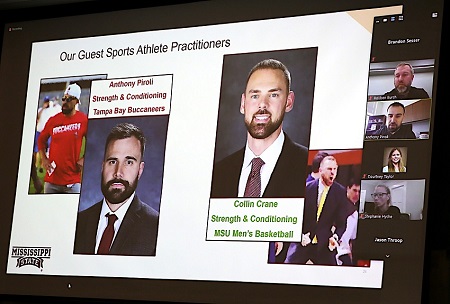 Photo submitted.
Crane said there are parallels between sports and industry.
"We all know the difference between winning and losing is very small in athletics," Crane said. "For example, over the last three seasons we have had 10 games come down to the last possession of the game. Sometimes it is the last couple of seconds of the game. Obviously, the difference between winning and losing is very small. That is revenue. In industry, obviously, revenue is very important.
"How can we gain an edge to maximize our revenue? We think the answer is to utilize technology, especially wearable technology."
Burch said some wearable technology companies are offering free trials of their COVID-19 proximity detection and contact tracing products to industries prior to purchase.
Partnership
The Zoom meeting was the kickoff of a partnership between The Communiversity and Athlete Engineering at MSU, CAVS, the Bagley College of Engineering and the National Strategic Planning & Analysis Research Center at MSU to inform industry leaders about resources available through the agencies Burch represents.
"We have a major research university right here in our back yard and many of our local industries are unaware of what they have to offer," said The Communiversity Executive Director Dr. Courtney Taylor, who heads EMCC's Workforce and Community Services division. "From a workforce point of view, one of the things we need to tell industries looking to locate here is that not only can their training needs be met through EMCC, but they will have access to the expertise available through our research partners."
Taylor said facilitating discussions such as the one on wearable technology is part of a larger effort by her division to serve as a conduit between education and industry while forming new partnerships to build upon the workforce ecosystem.
EMCC's Workforce and Community Services division works closely with area industries to offer training that meets current employment needs while anticipating future demands.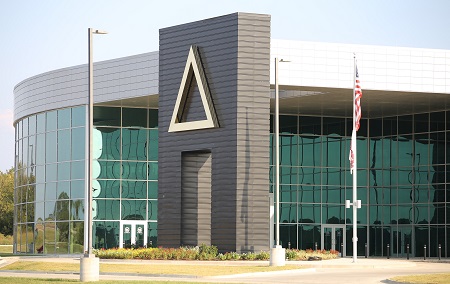 Photo submitted.
The Communiversity, a 145,638-square-foot, two-story building dedicated to training students for employment in today's high-tech modern manufacturing environments, teaches real-world skills in areas such as 3D printing, programmable logic controllers and industrial robotics, to name a few.
Local industry partners sit on the advisory board for The Communiversity and craft committees comprised of industry experts assist with curriculum development for the technical programs.
"In my point of view, when it comes to workforce, the community college should be at the center of the universe," Taylor said. "We have to look at what our industries our doing, what K-12 is doing, what we are doing and what our four-year universities are doing and figure out how it all fits together. There are opportunities for more partnerships that will benefit our students, our community, our industry and the economy as a whole."
Both Burch and Taylor said plans are in the works to collaborate on future projects. At the end of the day, they said, one shared goal inextricably intertwined with all others is to promote the study of science, technology, engineering and mathematics, or STEM, fields.
"When you start telling students about things like wearable technology that involves sports, that is cool and exciting," Taylor said. "I can get students to talk about football and that is going to spark their interest. Many students aren't aware of the great opportunities available in STEM fields today and we need to continue to explore new ways to get their attention."
For more information, contact Taylor at
ctaylor@eastms.edu
or Burch at
burch@ise.msstate.edu
.
Story submitted by
East Mississippi Community College