CAVS Associate Director Creates Athletic Engineering Program to Help Athletes Improve Performance.
September 21, 2020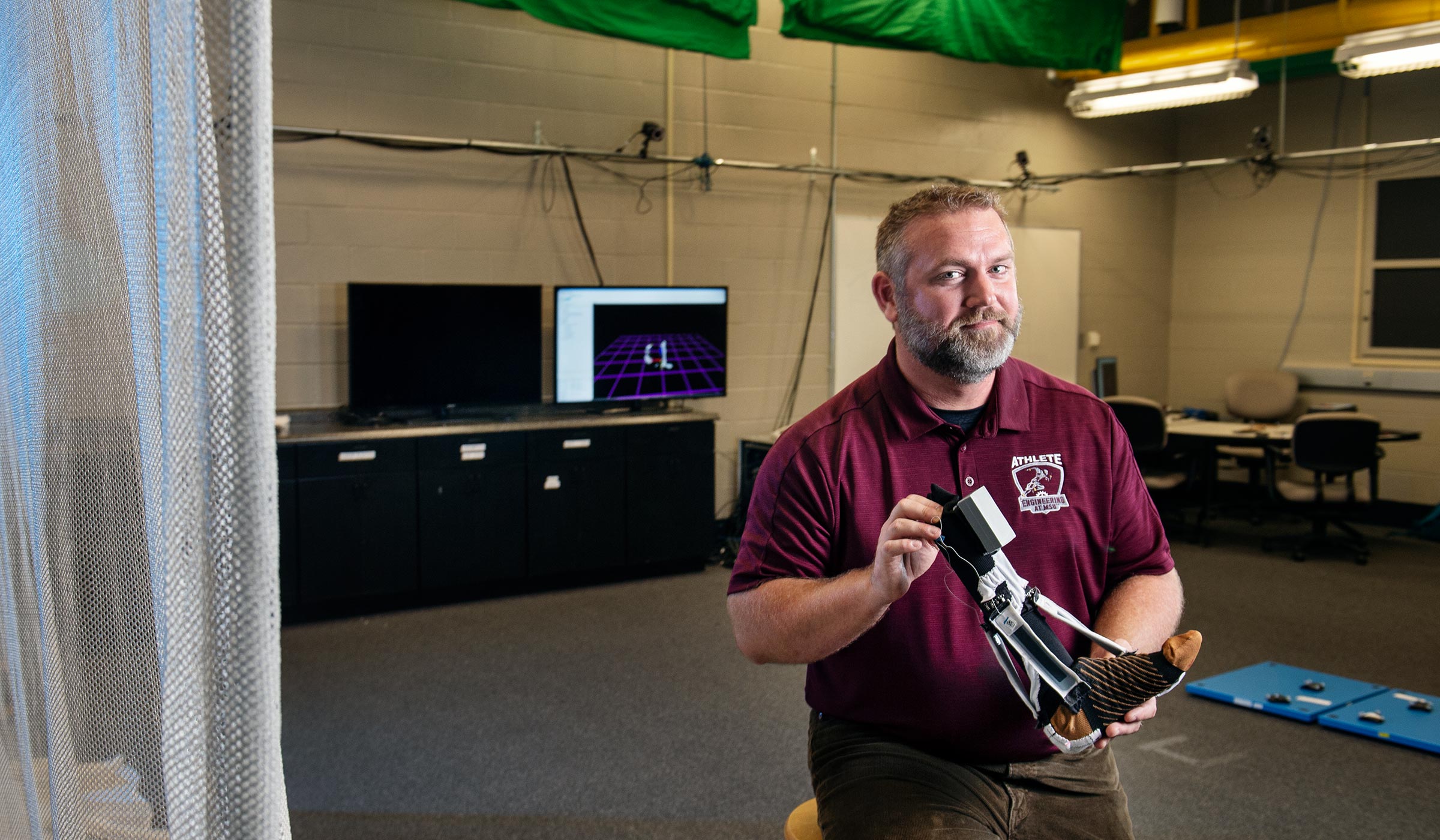 Photo by Megan Bean
Ask most Mississippi State football fans to rank their all-time favorite Bulldog wins and the 1996 victory over Alabama is likely to be high on the list. For Reuben Burch, an assistant professor of industrial and systems engineering in the Bagley College of Engineering, it's also a big reason why he ultimately chose to attend Mississippi State as a student.
A native of Montevallo, Alabama, Burch had grown up as an Auburn fan. His father had been on Auburn's track & field team, and he figured it was the school for him. But when he started looking at colleges, his dad, then an Alabama Power chief engineer, mentioned that the best young engineers at the company were Mississippi State graduates.
"I came to Starkville on a recruiting visit the weekend of the Alabama game in 1996," Burch said. "The energy of that game and the friendliness of the fans was special and something I decided that I wanted to be a part of. It's been only Mississippi State ever since."
Burch was a walk-on fullback for the Bulldogs from 1997-2001, playing for teams that won the 1998 SEC Western Division title and reached three-straight bowl games. He graduated with a bachelor's degree in computer engineering in 2002.
After more than a decade in private industry and after earning his Ph.D. in industrial and systems engineering through MSU's online program in 2014, Burch joined the university's ISE faculty in 2016. He also serves as an associate director at the Center for Advanced Vehicular Systems (CAVS) and is a faculty research fellow at the National Strategic Planning and Analysis Research Center, or NSPARC.
Since his return to campus, and with his history as a Bulldog athlete, Burch has helped create the Athlete Engineering research program. The multi-disciplinary team includes faculty and staff from such on-campus areas as engineering, athletics, textiles, kinesiology and sociology, as well as researchers from CAVS and NSPARC.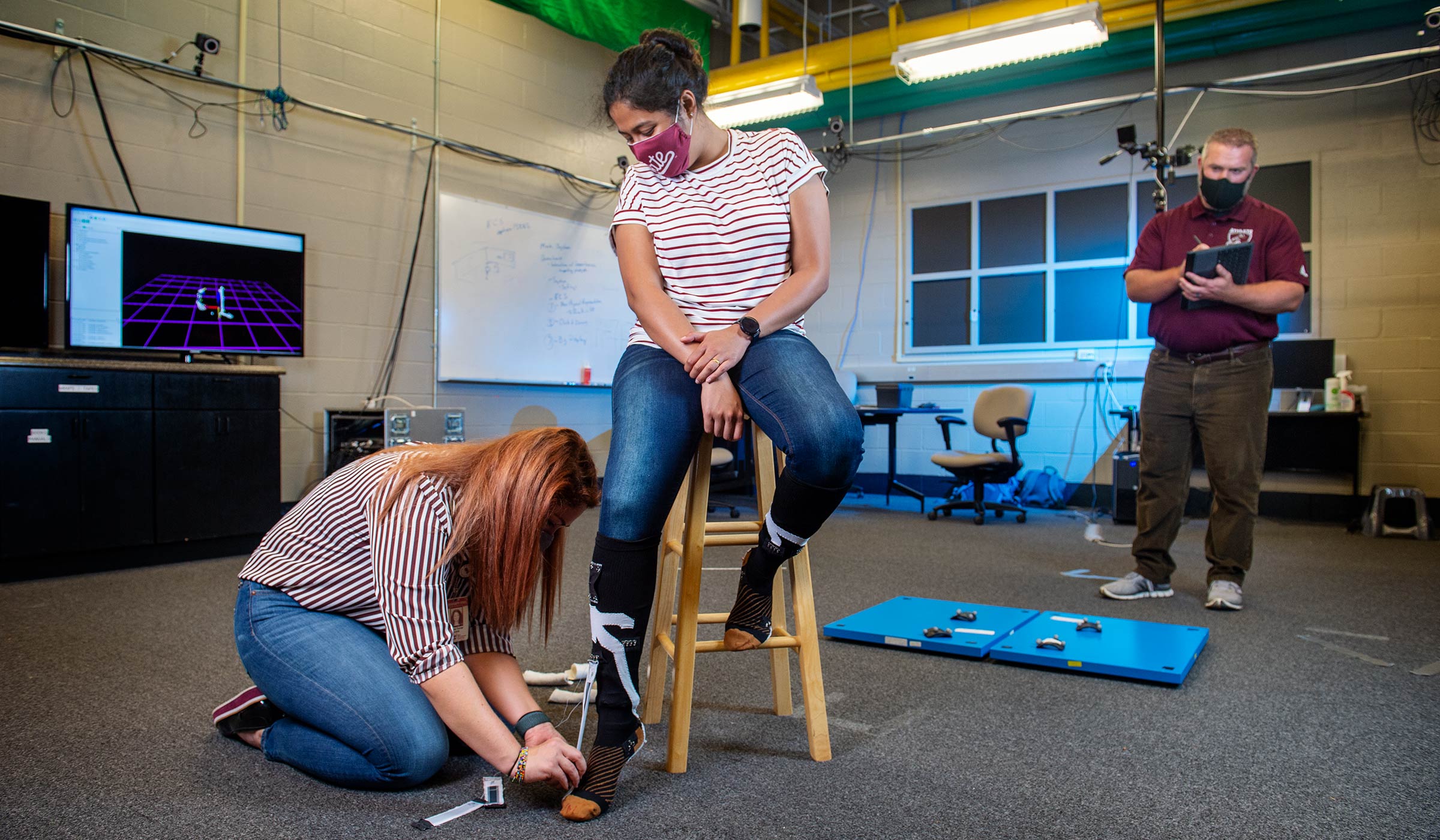 Photo by Megan Bean
Put simply, the group's goal is to use data to help coaches and athletes improve their performance. The work includes developing unique wearable sensors that can capture lab-quality data on a field or court. In the hopes of reducing injuries, one study looked at how athletes land after they jump. Another used motion-capture to study the mechanics behind the swings of MSU softball players.
"The stars have somewhat aligned for this collaboration," Burch said.
"Athletics is open to sharing data with the academic side of the university, and because we're a top research school, we can take advantage of the research capabilities that already exist here. We believe we're one of the first schools in the country to have an athletics-academics partnership like this. We want it to be mutually beneficial for everyone involved."
Burch also hopes the Athlete Engineering team can offer some long-term benefits to current Bulldogs.
"Having played college sports, getting out of bed these days is a little bit of an adventure," said Burch, explaining injuries he received years ago. "Hopefully this research can help give current student-athletes a chance to not have to go through that."
By
Philip Allison