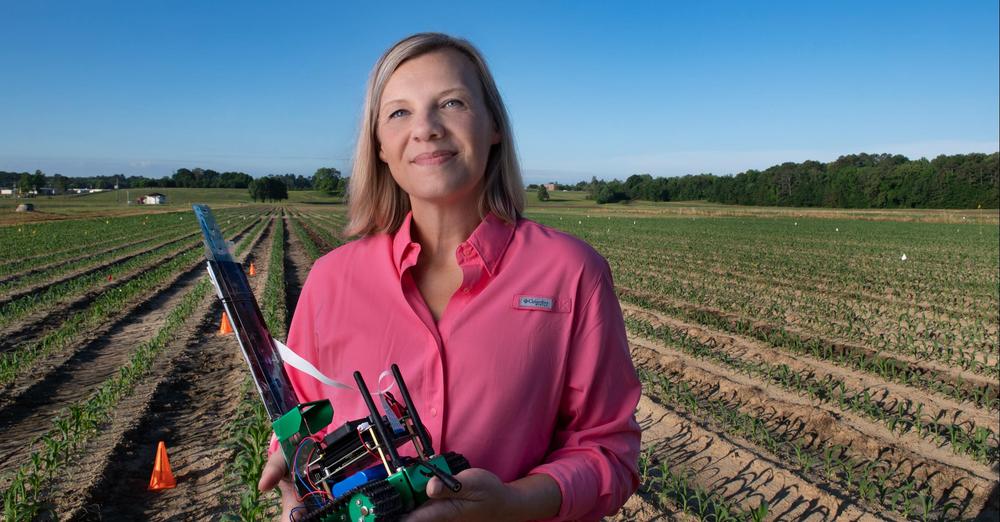 For Joby Czarnecki, it's all about the technology. Czarnecki, an associate research professor with Mississippi State University's Geosystems Research Institute, uses geospatial techniques and technology to implement agriculture research in practical ways. The goals are to assist farmers in preserving the land by lowering the stress that intensive agriculture can place on the environment and to increase their return on investment, or what the agricultural community commonly refers to as bushels per acre.
With soaring fertilizer, seed and machinery costs, Czarnecki can relate to farmers' slim profit margins. As a first-generation college graduate, Czarnecki 's family recognized the value of higher education and encouraged her to attend, but they didn't have the financial means to pay for it. Even with scholarships, the total cost was not covered, and Czarnecki had to work her way through college. She began her academic endeavors studying psychology, but it wasn't a subject she was really passionate enough about to endure the years of school and training necessary to make it a career.
"I just kept changing majors and I couldn't find what I loved. My mom was the county tax assessor and she showed me this cool mapping software and how her office was using it to identify landowners, determine land use, calculate acreage, and catalogue parcel value," Czarnecki said. "I was fascinated by the technology, but I realized I needed to be a subject matter expert to utilize it effectively. Somewhat on a whim, I decided to change my major to plant and soil sciences."
Czarnecki earned her undergraduate and master's degrees from Oklahoma State University. In her last year of study, her advisor suggested she contact one of his prior graduate students, the former MSU Vice President of Research and Economic Development and now MSU's Provost, David Shaw, about continuing her education. Czarnecki's adviser boasted about Shaw and said his former student was conducting some phenomenal precision agriculture research projects.
"I wasn't ready for continuing my education as a Ph.D. student and frankly at that time, I just couldn't afford it. I really needed a full-time job. Through serendipity I ended up moving to Mississippi to work in the Mississippi Delta."
After a few years of working in the Delta, Czarnecki finally contacted Shaw, and it was that connection and meeting that eventually brought her to work as a fulltime research associate, enabling her to use the MSU tuition reimbursement benefit to earn her Ph.D. in Plant and Soil Sciences.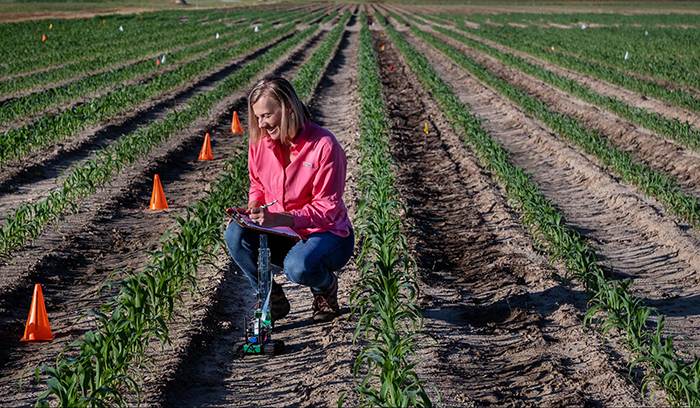 "I've been able to work on research in precision agriculture and I'm passionate about how these principles can be applied to conservation. One key project I'm proud of brought together MSU researchers to share their expertise to build a Water Conversation Management Plan for Catalpa Creek, the main drainage channel for MSU. We addressed soil and water quality concerns at MSU's Leveck Animal Research Center, colloquially referred to as South Farm, with a suite of best management practices built according to USDA Natural Resource Conservation Service standards. Today land managers can tour the improved areas of the farm to gather inspiration for how to implement these practices on their lands. "
Czarnecki and her work partners used key connections they had to local, state and federal agency colleagues to create and successfully implement what the Mississippi Department of Environmental Quality called, "...the most comprehensive plan they had seen in years." Such is the power of collaborative, cross-disciplinary work at MSU.
"I've been at MSU for 18 years now. I hadn't planned to stay, but it grows on you. I have a lot of reasons to be grateful. For one thing, it's where I met my husband. I love my work because working at MSU allows me to pursue my research interests of using geospatial technologies to help farmers remain profitability sustainable."