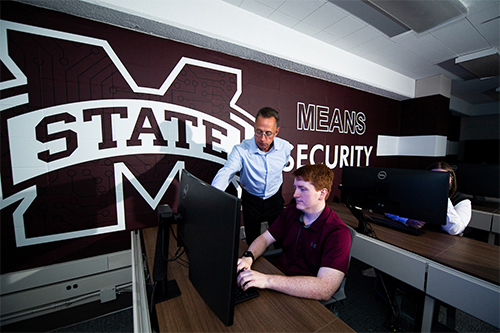 Mississippi State University has a longstanding history of sending Bulldogs to the front lines of federal cybersecurity efforts, and that tradition will continue as MSU receives $4.1 million over five years from the National Science Foundation to renew its CyberCorps: Scholarship for Service Program.
The NSF program helps bolster the federal cyber workforce by providing scholarships in exchange for government service in a cybersecurity capacity after graduation. MSU's CyberCorps program is among the oldest in the nation, graduating 141 cyber professionals over more than 20 years. The university's Department of Computer Science and Engineering, in collaboration with the MSU Center for Cyber Innovation, leads the CyberCorps program.
"Cybersecurity is critical to our nation's economic and national security. Through this program, NSF has helped more than 4,500 students get the degrees they need to be part of the cybersecurity workforce and helped them give back through public service," said NSF Director Sethuraman Panchanathan. "With this announcement, NSF reaffirms its commitment to invest in institutions that have demonstrated exceptional success and innovative advancements to their existing projects with the aim of fostering a robust workforce and growing interest in cybersecurity careers."
MSU has been continuously credentialed as a National Center of Academic Excellence in Cybersecurity by the National Security Agency since 2001 and is one of only a few universities to hold all three NSA cyber designations—Cyber Defense, Cyber Research and Cyber Operations. The Department of Computer Science and Engineering has 15 faculty members with active research funding in areas such as reverse engineering, social engineering, software security, industrial control systems, data security, artificial intelligence security, explainable intrusion detection systems, cybersecurity education and more.
"This new round of funding from the National Science Foundation underscores the excellence of our cybersecurity faculty members and their ability to prepare students to address our cyber challenges at the highest levels," said Jason Keith, dean of the James Worth Bagley College of Engineering. "There is a growing demand for cyber professionals at all levels of government, and I am proud of the way the MSU CyberCorps program helps to meet that demand through world-class educational opportunities."
The new NSF funding will support approximately 27 students over the grant period. Those students receive a stipend, full tuition and a professional development allowance to pursue cybersecurity certifications, attend conferences and participate in other activities. The students also will receive hands-on experience as they work with faculty to conduct research. MSU has established pipelines with in-state institutions such as Jackson State University, Mississippi Valley State University, Tougaloo College, East Mississippi Community College and Mississippi Gulf Coast Community College for students to pursue undergraduate and graduate programs at MSU and apply for the CyberCorps program.
Andy Perkins, professor and associate head in the Department of Computer Science and Engineering, will serve as the principal investigator on the five-year NSF grant. Sudip Mittal, assistant professor in the department, and Reed Mosher, director of the MSU Institute for Systems Engineering Research, are serving as co-principal investigators.
For more on MSU's cybersecurity programs, visit
www.cse.msstate.edu/cyber-security
and visit
www.cci.msstate.edu
for more on the Center for Cyber Innovation.