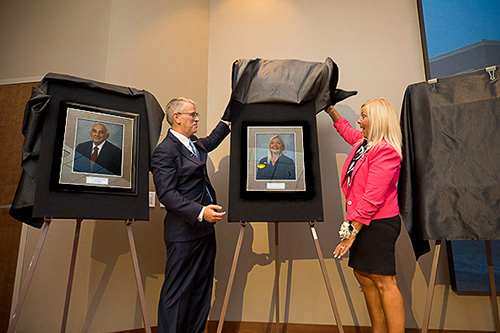 A Mississippi State University staff member was recently celebrated for her years of service to the federal government.
Patti Duett, associate director for MSU's Institute for Systems Engineering Research, was inducted into the U.S. Army Corps of Engineers Waterways Experiment Station (WES) Gallery of Distinguished Civilian Employees during an induction ceremony July 27 at the U.S. Army Engineer and Research Development Center (ERDC) Auditorium in Vicksburg.
Headquartered in Vicksburg, WES was the nation's first federal hydraulics research facility and was created because of the 1927 Mississippi River Flood. WES was established in 1929 to provide research support and has since transformed research in the United States.
WES has grown into the U.S. Army Engineer Research and Development Center, one of the world's most diverse engineering and scientific research organizations. Today, ERDC has seven laboratories, several field sites nationwide, and an annual research program exceeding $1 billion.
Duett retired from the ERDC Information Technology Laboratory (ITL) in 2021 after 30 years of service. She dedicated her career to ensuring ITL and ERDC were at the forefront of technical achievements, and her work played a vital role in the laboratory's success and continues to serve as the foundation for its future.
In 2014, Duett was named ITL deputy director, where she established and executed the lab's Facility Improvement Plan. This effort ensured the laboratory would have premier facilities to support research and development for decades. Duett also identified an augmented reality/virtual reality demonstration work area as part of the requirements to support ITL's expanding core competencies, resulting in the Dynamic Immersive Virtual Environment Laboratory (DIVE Lab).
In 2007, Duett was named an associate technical director for ITL, which allowed her to expand her reach to programs across ERDC. She served as the ERDC program manager for civil works basic research, knowledge management, and Corps of Engineers asset management efforts. Her efforts laid the groundwork for the Operational Condition Assessment Program, which is still used today for inventory definition, risk management optimization, and budget execution, saving the Corps millions of dollars in unforeseen accidents and mission outages while providing analysis and insight into strategic opportunities.
Climbing the ranks at the agency allowed Duett opportunities to develop professionally and make connections that would last a lifetime. She's grateful for all that the agency offered her.
"I have learned lifelong lessons and made enduring friendships," said Duett. "I also take great pride in being part of an organization that leads the way in cutting-edge research, making our nation a better and safer place to live. I am grateful and humbled to be a part of such a distinguished gallery of employees who have made significant contributions and advancements to a world-class organization."
Duett feels honored to be a part of an agency that continues to impact science and engineering globally.
"WES and ERDC have played a vital role in shaping a safer, more prosperous, and resilient future for our nation and the world. I will always take great pride in this organization and continue to be an advocate by telling the ERDC story."
David Pittman, ERDC director, praised Duett for her dedication to excellence.
"Patti is brilliant at what she does," said Pittman. "She has an extremely positive attitude, and I thank her for what she's done for me, the ERDC team, the Corps of Engineers, the Army, and the nation.
Visit the
WES Gallery of Distinguished Civilian Employees Ceremony
on YouTube to watch Duett's induction.