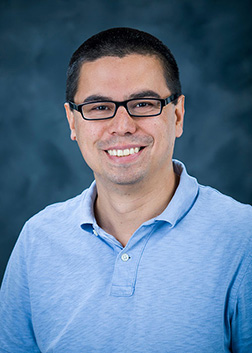 A Mississippi State associate professor of geosciences and GRI researcher is partnering with colleagues at the University of Mississippi, and UM is receiving a crucial instrument essential to innovative materials development research thanks to a Major Research Instrumentation award from the National Science Foundation.
The Quartz Crystal Microbalance with Dissipation is a highly sensitive balance that can detect changes in mass at the molecular level using a quartz crystal, which registers minuscule deviations in frequencies and loss of energy.
The device will be housed at UM but be used as a shared device for researchers in Mississippi and the Southeast, with coordination from researchers at UM and Mississippi State University, who were co-principal investigators on the award.
"We are very happy the NSF could provide the funds for us to purchase this instrument," said Brenda Prager, assistant professor of chemical engineering at UM and principal investigator for the award. "This instrument will be used to dramatically improve research productivity from at least eight departments at UM and MSU. Fourteen different research groups also will immediately benefit from the incorporation of this instrument into their research activities, and up to 65 research students will learn new interfacial measurements using this state-of-the-art equipment."
Between UM and MSU, the instrument will assist engineering departments in disciplines that include chemical, biomedical, civil and agricultural/biological, along with the UM School of Pharmacy and the Department of Geosciences at MSU.
Rinat Gabitov, MSU associate professor of geosciences, is a co-principal investigator on the award.
"With the Quartz Crystal Microbalance with Dissipation, researchers in Mississippi and throughout the Southeast can now access a state-of-the-art analytical instrument to enhance their current research efforts in their respective fields," said Alexander Lopez, an assistant professor of chemical engineering at UM and co-principal investigator on the award. "The instrument provides a powerful tool for researchers to study how molecules interact with surfaces with unparalleled precision."
Expected to arrive this spring, the Quartz Crystal Microbalance with Dissipation, or QCM-D, will enable UM researchers to enhance their competitiveness on the world stage with innovative material developments while also allowing for the greater dissemination of their research in publications and conference presentations, and lead to increased funding opportunities for future research.
The device is used in fields such as drug capsule preparation, drug release considerations, multifunctional coating development for packaging applications, biofilm studies, formulations and end-product analysis of novel materials, and more.
"In all of these areas, there is a need to study behavior at the nanoscale or molecular level, and the QCM-D is sufficiently accurate and sensitive to enable such measurements at this very small scale," Prager said.
Prager's research interests are in developing novel coatings to prepare innovative food-packaging for better longevity and protection of foodstuffs. Part of that research involves developing a highly water-repellent surface on a coating. She's also pursuing a thermal barrier coating that is intended to protect packaged goods from harsh and hot environmental conditions often encountered during transportation of goods in remote areas.
"For both these projects, it is highly important to understand exactly how the coating components interact with the cellulose substrates, and the QCM-D will enable me to determine the adsorption kinetics, the type of bonding and the viscoelastic development of the coating as it dries over the cellulose," said Prager, who joined the UM faculty in 2015.
With the acquisition of the QCM-D, these research areas and more will be expanded as the instrument's innovative uses are shared with other institutions and industries in the Southeast.
Gabitov said geoscience researchers at MSU study the geochemistry of waters and minerals at both macro and micro scales. The QCM-D will help these researchers expand existing programs in this field of study.
Gabitov's research interests lie at the intersection of geochemistry and mineral growth, focusing on what minerals can tell us about the past and how minerals help in the removal of chemical pollutions from water.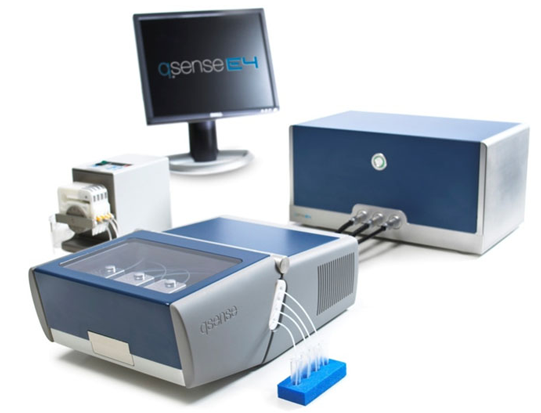 "Mineral growth can take different paths through various steps as each step of these paths has its unique physical characteristics," he said. "The QCM-D allows the evaluation of many of those steps and hence provides information on crystallization paths. In particular, the QCM-D provides information on the character and the rate of mineral-water interaction, which is critical in evaluating of crystallization mechanisms and the way minerals retain hazardous components."
Beyond research at universities throughout the Southeast, the QCM-D also will be used by students in courses covering polymer science, biomedical microscopy, environmental geochemistry and more, along with various undergraduate research projects.
The instrument also will be used in outreach programs for kindergarten through 12th-grade students in Mississippi and elsewhere to nurture further interests in science, technology, engineering and mathematics. Some of the programs where the QCM-D will be used for outreach purposes include mentoring high school students enrolled in a summer research program or UM students in the Ronald E. McNair Program, using it to further student research through the Summer Undergraduate Research Experience program at UM, or engaging students at events such as Science Day at the UM Field Station.
This is the second time in less than three years that UM has received a Major Research Instrumentation award from the NSF. Through a collaborative effort, researchers from multiple schools and departments acquired a new field-emission scanning electron microscope that is housed in the UM School of Pharmacy.
Titled
"Acquisition of a Quartz Crystal Microbalance with Dissipation Monitoring for Enhanced Research and Teaching of Interfacial Science in the State of Mississippi,"
funds totaling $185,486 for the QCM-D are provided by grant No. 2018004 from the National Science Foundation.
The other co-principal investigator on the award is Soumyajit Majumdar, professor of pharmaceutics and drug delivery, associate director of the PII Center for Pharmaceutical Technology and associate dean for research and graduate programs in the UM School of Pharmacy.