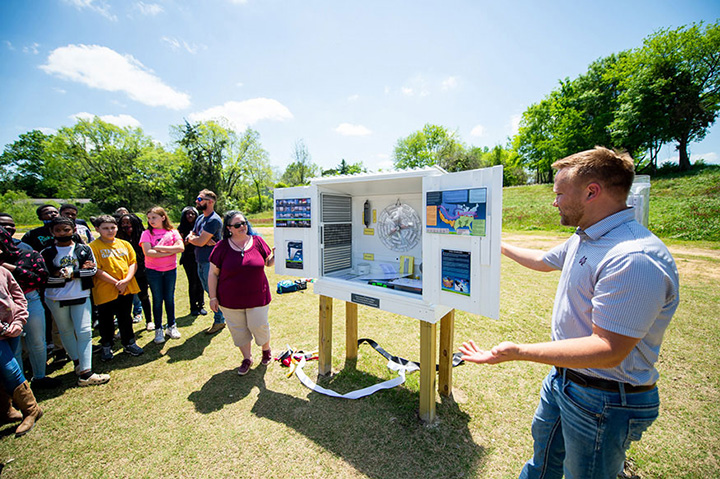 Geosystems Research Institute Scientists, in collaboration with the Partnership Middle School -- Starkville Oktibbeha County School District's sixth and seventh grades -- last week officially have opened an interactive weather station to help students better understand how air masses and frontal boundaries affect daily weather.
Modeled after an interactive weather station at the Great Smoky Mountains Institute at Tremont, the newly installed rain gauges installed will allow classes to contribute as "citizen scientists" to the Community Collaborative Rain, Hail and Snow Network, CoCoRaHS for short, research database -- a non-profit, community-based network of volunteers working together to measure and map precipitation. Established in 1998 at Colorado State University, CoCoRaHA has partnerships in all 50 U.S. states.
Barrett F. Gutter and Sarah R. Lalk, both assistant clinical professors in MSU's Department of Geosciences, have worked with the Partnership Middle School in developing the system, which contains a variety of meteorological instruments including a thermometer, barometer, rain gauge, sling psychrometer, anemometer and wind vane.
"The weather station is designed to be an interactive, hands-on experience for the students," Gutter said. "The students will be provided a sheet to record daily measurements of temperature, pressure, precipitation type and amount, relative humidity, wind speed and wind direction. Students also will be able to share precipitation data with the CoCoRaHS."
Lalk said the geosciences department will provide teachers with professional development supplies to help implement cross-curricular, weather station-related activities into classrooms. "We hope these activities will help students learn about how weather can impact all aspects of our lives and how we can use past weather measurements to compare to current events," Lalk said.
"We want to make weather relevant to students and hope the students become weather awareness advocates in their communities," she said. "If you can get a child involved in a subject they enjoy interacting with, they are more likely to have a continued interest in that subject into adulthood."
Jorine Neal, Partnership Middle School principal, said her seventh grade students currently are completing a unit on weather and the collaboration with MSU's Department of Geosciences will enrich future lessons.
"With all the weather events happening recently, I think the weather station is right on time," Neal said. "This will help our students become better scientists -- developing skills such as observing, predicting and collecting data -- as well as practicing writing about their experiences and sharing what they have learned. I know my teachers are excited as well and look forward to learning more about this. Who knows, we maybe discover some future meteorologists among our students."
Pamela Everitt, Partnership Middle School lead teacher, said the science teachers now will have the measurement tools to discuss how weather is tracked, calculated and recorded. "Weather will always be a part of our lives and this weather station is going to provide our students a deeper understanding of what is happening around them," Everitt said.
Amanda Tullos, MSU's director of the Partnership Middle School and education liaison in the Office of Research and Economic Development, said partnerships of this nature benefit local youth by connecting resources and experts to all students through their normal school day and classroom instruction.
"Students can see their grade-level standards come alive in real, relevant, ongoing instruction and experimentation; learn from experts in the field; understand the impact and interaction of weather in their everyday life; and see first hand what a career in meteorology looks like and what the steps are to access that career," Tullos said. "Hands-on learning experiences of this nature are so valuable in developing understanding and context, and when these experiences are partnered with people passionate about supporting educators and instructing and developing the next generation, it's a powerful thing."
Part of MSU's College of Arts and Sciences, more information about the Department of Geosciences is available at
www.geosciences.msstate.edu
.
MSU is Mississippi's leading university, available online at
www.msstate.edu
.