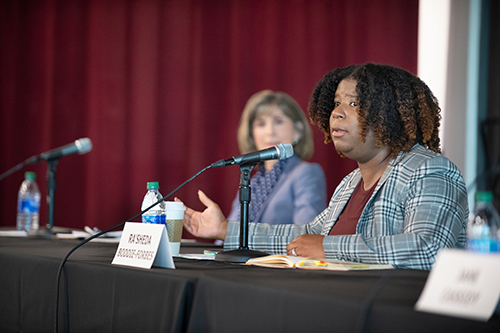 Mississippi State leaders recognized 24 graduates of the university's Spring 2021 Faculty Leadership Develop Institute during a ceremony Friday [May 7].
The group represents the largest cohort in the history of the leadership program, which is sponsored by the Office of Research and Economic Development and the Office of the Provost and Executive Vice President. The program includes lessons on leadership styles, organizational change, diversity, building winning research teams, and organizational evaluation and assessment. MSU President Mark E. Keenum commended the faculty on completing the program and shared several of his own leadership lessons, including those he learned while working as chief of staff to U.S. Senator Thad Cochran.
"Good leaders have to be courageous," Keenum told the graduates. "The mere fact that you are stepping up and saying 'I want to be a leader,' or you want to be the next administrator, director, associate provost, provost, or president is courageous. Whatever it is that you decide you want to pursue, or whatever responsibility you decide you want to take on, you have to have some courage to do that."
As part of the graduation ceremony, leaders from four different universities held a panel on underrepresented person in academic leadership. The panelists included Margaret Amstutz, associate provost for academic programs and chief of staff at the University of Georgia; Ra'Sheda Boddie-Forbes, MSU vice president for access, diversity and inclusion; Jane Cassidy, Louisiana State University interim vice president for the Division of Equity and Title IX; and Karen Coats, dean of the graduate school at the University of Southern Mississippi.
"We have to educate ourselves on how biases manifest themselves," Boddie-Forbes said. "As leaders, it's important to understand people's perspectives, their challenges and to be supportive."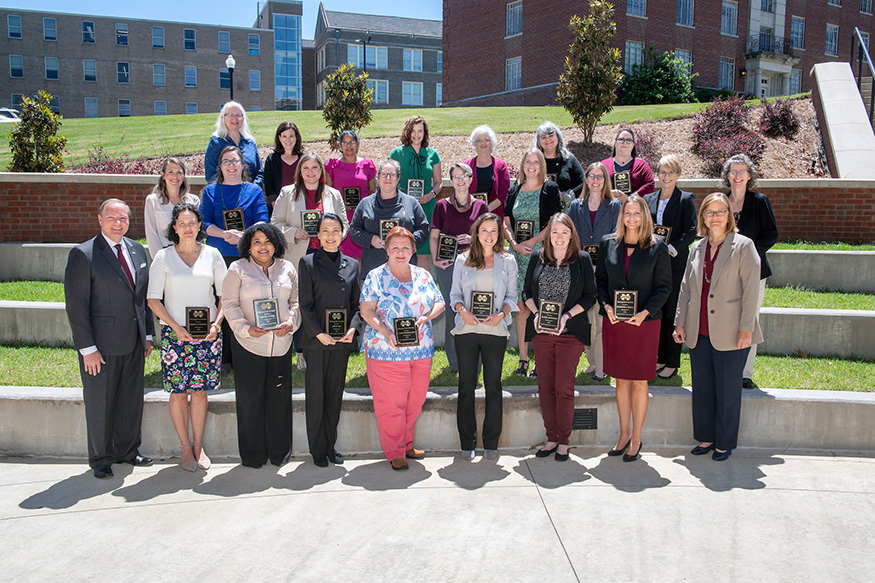 Due to the COVID-19 pandemic, the Faculty Leadership Development Institute was adapted into a virtual format for the spring. During meetings throughout the spring semester, the group focused on women's leadership and professional career paths as they progress from faculty to administrative positions. Leadership training was provided by Claudia Fernandez, a University of North Carolina associate professor and director of multiple leadership institutes, and her husband Ruben, president of FastTrack Leadership, Inc.
MSU's Spring 2021 Faculty Leadership Development Institute class includes:
Beth Baker, Department of Wildlife, Fisheries and Aquaculture
Leslie Burger, Department of Wildlife, Fisheries and Aquaculture
Amy Crumpton, Interior Design Program
LaDonne Delgado, MSU Libraries
Qian "Jenny" Du, Electrical and Computer Engineering
Kristine Evans, Department of Wildlife, Fisheries and Aquaculture
Alexis Gregory, School of Architecture
Kimberly Hall, Meridian Division of Education
Alisha Hardman, School of Human Sciences
Julie Jessop, Swalm School of Chemical Engineering
Anne Marshall, Department of History
Lyndsey Miller, Interior Design Program
Bindu Nanduri, Department of Comparative Biomedical Sciences
Ginger Pizer, Department of English
Sorina Popescu, Department of Biochemistry, Molecular Biology, Plant Pathology, and Entomology
Suzanne Powney, Department of Art
Heidi Renniger, Department of Forestry
Kathleen Sherman-Morris, Department of Geosciences
Beth Stokes, Department of Sustainable Bioproducts
Tonya Stone, Department of Mechanical Engineering
Mary Love Tagert, Department of Agricultural and Biological Engineering
Angelle Tanner, Department of Physics and Astronomy
Carrie Vance, Department of Biochemistry, Molecular Biology, Plant Pathology, and Entomology
Amelia Woolums, Department of Pathobiology and Population Medicine
For more on the Faculty Leadership Development Program, visit
https://www.research.msstate.edu/initiatives/faculty-leadership-development-program
.
MSU is Mississippi's leading university, available online at
www.msstate.edu
.