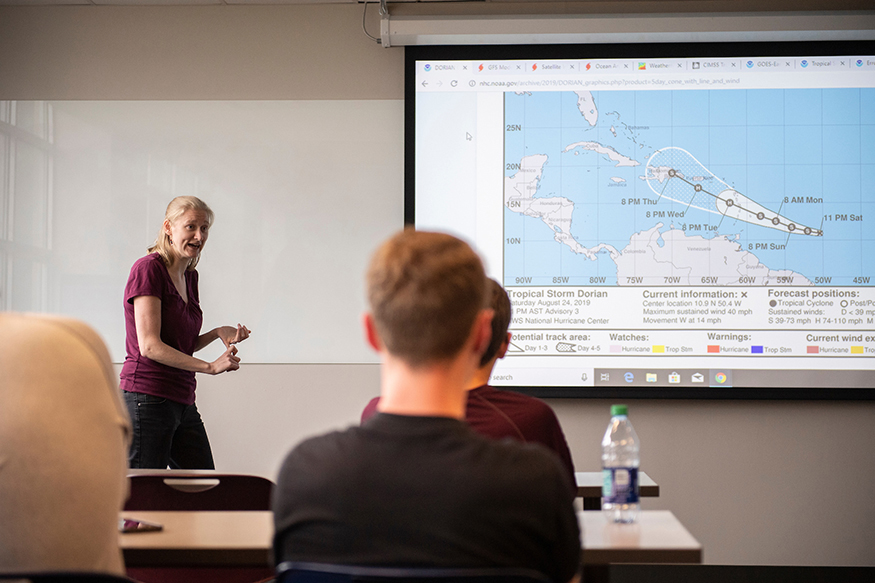 Mississippi State's Kimberly M. Wood is the recipient of a more than $500,000 grant through the National Science Foundation's prestigious Faculty Early Career Development (CAREER) Program to study factors that influence weakening of hurricanes.
The CAREER program supports emerging faculty who have potential to serve as academic role models in research and education, and lead advances in the mission of their department.
Wood, an associate professor in the Department of Geosciences, and an MSU faculty member since 2015, will use the $529,705, five-year award to research previous storms like 2018's Hurricane Florence before it made landfall in North Carolina. She will examine how hurricanes weaken over the ocean and how those factors might change when a hurricane is near land.
"This award enables the study of storms across the globe to identify how weakening processes might be different in different tropical basins, efforts that will use atmospheric data and software tools like Python that anyone can access," Wood said. "My project will not only facilitate insights into how hurricanes can weaken but also produce a suite of open-source tools to visualize and interrogate hurricane-related data, supporting students in learning how to program and benefitting other hurricane researchers."
Wood said she has been fascinated with this topic for a decade, but the CAREER award is the first funding she's successfully applied for to conduct research on the subject.
"Key components to my teaching and research efforts at MSU include data visualization in Python and collaborating with the community to produce useful coding examples," Wood said. "This project ensures I have support to continue those efforts and thus expand access to data analysis tools for scientists ranging from incoming students to seasoned experts."
Wood said it is helpful to motivate students to learn something challenging—like programming—when they see useful outputs can result from their efforts.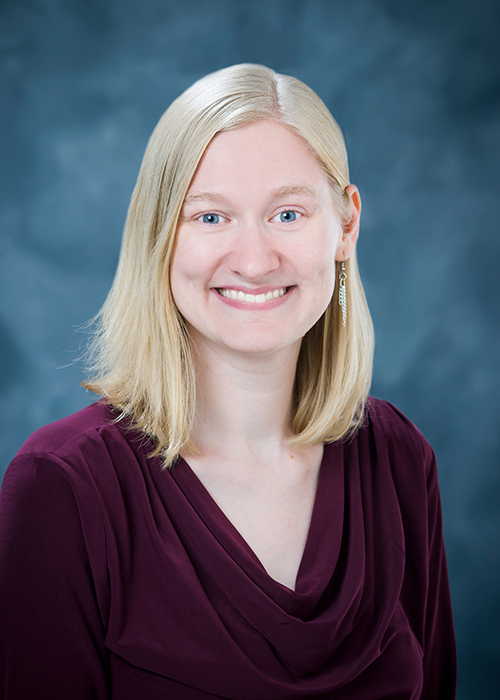 "Being able to tell stories with data is critical for explaining our science and why we do our science, and visualizations can help tell those stories, especially when someone has the programming ability to tailor their messaging for their target audience," Wood said.
Wood was accepted in 2018 into the inaugural Early Career Leadership Academy by the American Meteorological Society as an emerging leader in the atmospheric and related sciences community. She recently served as recommendations committee chair for the 10th International Workshop on Tropical Cyclones, an event sponsored by the World Meteorological Organization to assemble forecasters and researchers to discuss recent findings and identify pressing needs to continue improving our understanding of hurricanes.
For more than a decade, Wood has studied tropical cyclone evolution, seasonal tropical cyclone activity, and how scientists can apply machine learning tools to capture current and predict future hurricane behavior. Her work is featured in professional journals such as Geophysical Research Letters, Weather and Forecasting, and Nature Communications.
A native of Portland, Oregon, Wood earned her Ph.D. and master's degree in atmospheric science from the University of Arizona. She received her bachelor's degree in physics from Oregon State University.
Part of MSU's College of Arts and Sciences, the Department of Geosciences is nationally recognized for its excellence in broadcast meteorology, weather forecasting, severe weather research, hydrometeorology, artificial intelligence, weather modeling and climate sciences.
Complete details are available at
www.geosciences.msstate.edu
.
MSU is Mississippi's leading university, available online at
www.msstate.edu
.