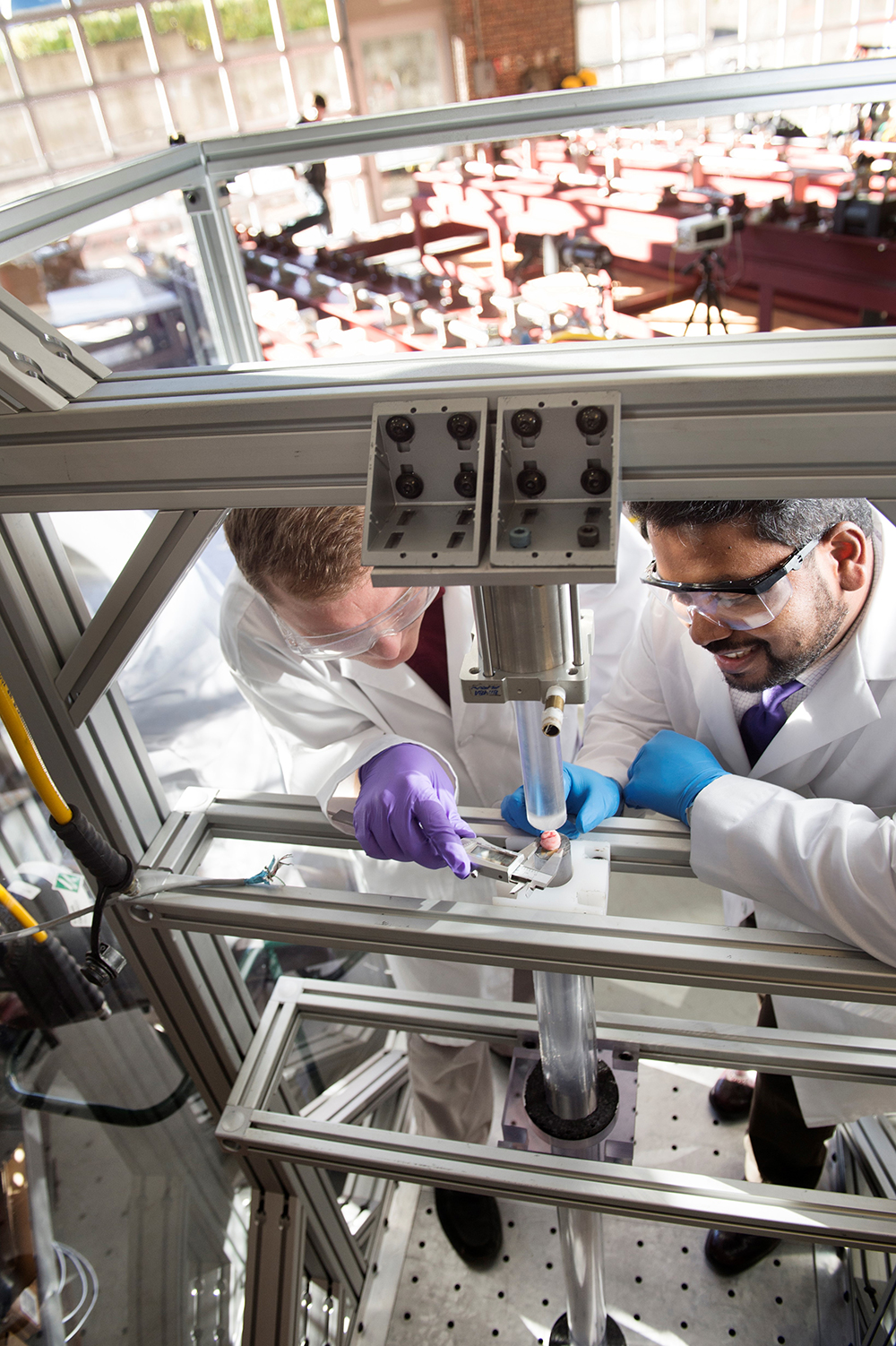 A research collaboration between Mississippi State University and Cardiff University in the United Kingdom aims to increase understanding of traumatic brain injuries in soccer.
The study, which began in 2020, researched the effects of head impact on aware and unaware soccer players. Raj Prabhu, former Department of Agricultural and Biological Engineering associate professor now deputy project scientist at NASA, and Hamed Bakhtiarydavijani, research engineer for the Center for Advanced Vehicular Systems, conducted the study at Mississippi State, along with Mike Jones from Cardiff University. Youssef Hammi, an associate professor in MSU's Department of Mechanical Engineering also participated in the project. The study found a dramatic difference in the head and brain movement of players who were aware of a head-to-soccer ball collision and those who were unaware.
Bakhtiarydavijani said that the study found that individuals unaware of an incoming impact are at a much higher risk of injury. When an individual is hit unaware by a soccer ball, because their neck muscles are relaxed, they experience significantly larger and faster head movement. These sudden head movements cause the brain tissue to stretch, increasing the risk of brain injury. Aware players, on the other hand, experience smaller head movements and are less likely to be injured. He explained that when someone is in a situation, and something comes towards them, they stiffen their necks in anticipation of that collision. When people are unaware of the collision, they cannot brace their necks.
"When you've got a larger range of motion after a collision, this allows for whiplash and causes the brain to move around and stretch more, causing injury," he said. "This increases the risk of injury in individuals unaware of the incoming ball versus those who are aware of it."
He explained that as soccer gains more and more popularity in the United States, especially in schools, it's always better to know the risks beforehand and that it's best to address issues with head injuries as quickly as possible before the sport's popularity increases.
"If we are able to do this research now and present our findings, it's better to set safety guidelines in the beginning so that further down the line, we don't have to, and it's harder to change people's mindsets. These studies help push that information forward to set guidelines as early as possible and mitigate any damages that might be caused down the line."
Guidelines for heading in soccer have already been set in some countries. Bakhtiarydavijani, who earned his Ph.D. at MSU in 2019, pointed to the fact that there are specific rules for under 12 age groups in Britain. Younger players, for example, are not allowed to do the headings permitted by those participating in professional matches because of the risks of injury.
This research project is the second collaboration between Mississippi State and Cardiff University. A 2017 study was conducted to advance the understanding of infant head trauma, one of the leading causes of death in young children.
Bakhtiarydavijani said he was looking forward to continuing the collaboration between Mississippi State University and Cardiff University with future projects.