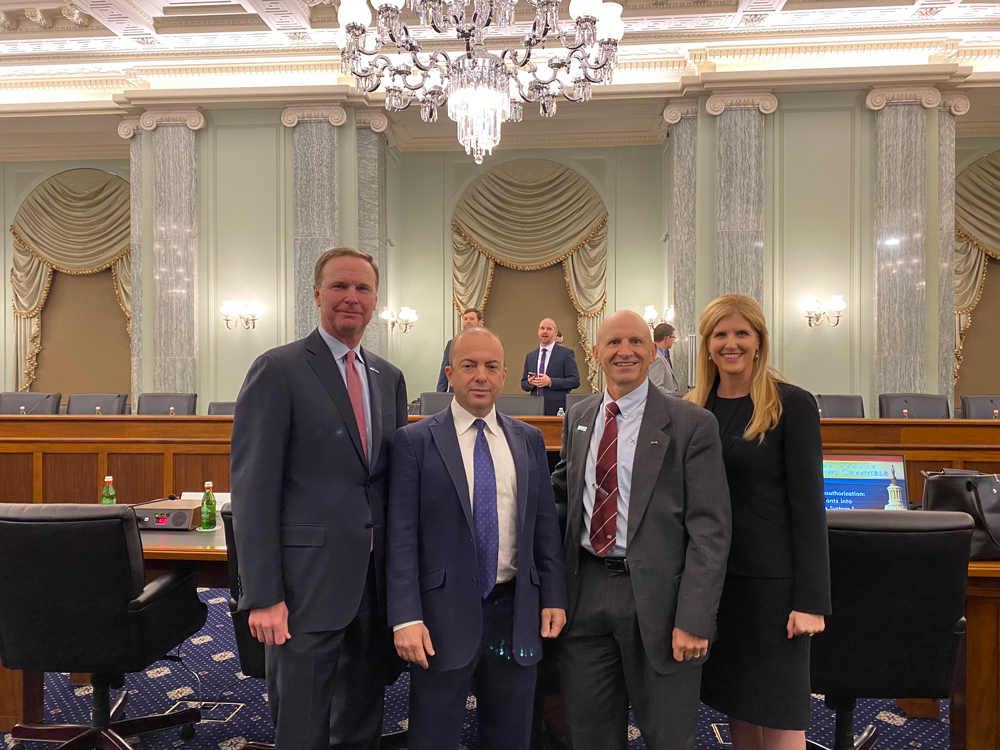 WASHINGTON, D.C.—Mississippi State was well-represented in Washington, D.C. last week as two university leaders shared their expertise with the U.S. Senate Committee on Commerce, Science and Transportation.
Col. Stephen "Lux" Luxion (Ret.), executive director of the MSU-led Federal Aviation Administration Center of Excellence for UAS Research, or ASSURE, testimony included integrating new entrants into the national airspace system, providing senators with an update on ASSURE's accomplishments since its 2015 launch and the work that still needs to be done to fully integrate uncrewed aircraft systems into the U.S. airspace.
MSU was selected to lead the FAA's UAS Center of Excellence in 2015 to provide the agency with the academic research, data and support needed to safely integrate UAS, commonly referred to as drones, in the national airspace system. Since then, ASSURE has supported more than 60 projects related to advanced air mobility, cybersecurity, integrating UAS in disaster response and more, Luxion said. He added that the coalition's work has led to additional opportunities.
"ASSURE continues to develop a network of worldwide affiliations to harmonize rulemaking and standards globally," Luxion said. "Canada, the United Kingdom, Israel, and Singapore now have affiliate universities in the ASSURE consortium.
"The COE's work supporting the FAA has led to other developments. We are engaged in nine studies for NASA, which investigate the technologies to support uncrewed aircraft traffic management critical to beyond-visual-line-of-sight operations, multi-UAS control, and improved aviation weather forecasting below 500 feet."
ASSURE is comprised of 26 of the world's leading research institutions and more than 100 leading industry and government partners. ASSURE members are core to three FAA UAS test sites, lead four FAA research centers, have seven airfields and a 340 UAS fleet — 24 more UAS than the U.S. Air Force. This alliance features expertise across a broad spectrum of research areas, including: Air traffic control interoperability, UAS airport ground operations, control and communications, detect-and-avoid, human factors, UAS noise reduction, UAS wake signatures, unmanned aircraft pilot training and certification, low altitude operations safety, spectrum management and UAS traffic management.
To read, Luxion's submitted testimony, visit
https://www.commerce.senate.gov/services/files/8E547B6D-04C5-4084-BAB8-C451827E872F
.
MSU is Mississippi's leading university, available online at
www.msstate.edu
.